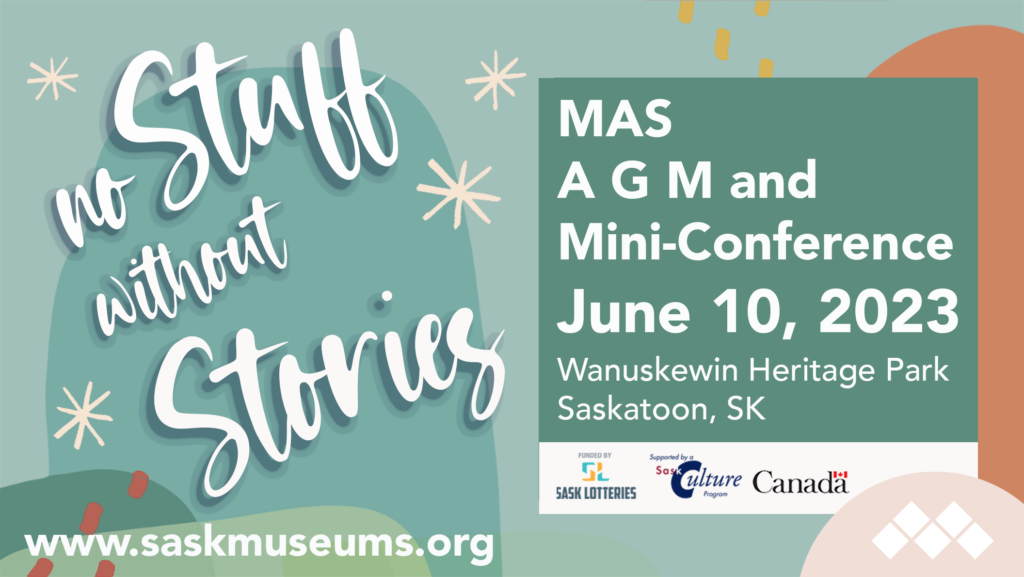 MAS Mini-Conference and AGM
Saturday June 10, 2023
Wanuskewin Heritage Park
RR #4 Penner Road, Saskatoon, SK
The Museums Association of Saskatchewan (MAS) invites you to join us Saturday, June 10  for our Annual General Meeting, as well as our presentation of our Mini-Conference No Stuff without Stories.
Our AGM, Member Forum, and Speaker Series will be taking place at Wanuskewin Heritage Park, the National Historic Site located in the City of Saskatoon and RM of Corman Park.
MAS Member – $50
Non-Member – $60
Student – $40
Annual General Meeting Only (no cost)
Registration Deadline May 26th 2023
Conference Registration & Payment
Registration
Accommodations
Expense Claim
Registration
Registration includes parking, admission to the Visitors Centre, with access to the Exhibits, Galleries and Trails. There will be a coffee/tea service provided throughout the day, as well as Lunch for all registrants.
MAS Member – $50
Non-Member – $60
Student – $40
Annual General Meeting Only (no cost)
Accommodations
Expense Claim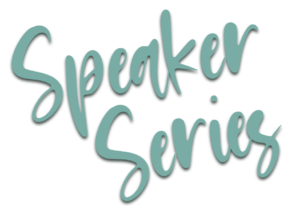 Senior Manager, Community Engagement and Indigenous Initiatives, Canadian Museums Association
Stephanie Danyluk has extensive experience in community engagement supporting Indigenous heritage and governance initiatives. Her experience includes history, policy and community-based research and community engagement in support of Indigenous history, language, and culture initiatives, including the design and development of public history projects and interpretive displays and exhibit curation. In addition, she has experience in treaty, land claims and self-government negotiations. Stephanie has a Master of Arts in History from the University of Saskatchewan.
At the CMA, Stephanie works with colleagues and partners to develop and lead projects related to reconciliation and UNDRIP implementation in the museum sector, leads engagement with the museum community in relation to these initiatives, as well as leads delivery of the CMA National Conference. She is also a co-author of the CMA's recently released Moved to Action report, a response to TRC Call to Action #67.
Outreach Coordinator, Saskatchewan Archaeological Society
Karin Steuber, PhD, is the Public Outreach Coordinator of the Saskatchewan Archaeological Society and Adjunct Professor with the Department of Archaeology and Anthropology at the University of Saskatchewan. She has been an archaeologist for over 20 years, working on the Canadian Plains with a focus on lithic technologies.
Gabriel Lamarche is a current master's student in archaeology at the University of Saskatchewan. He grew up around Georgian Bay, on Lake Huron, and has now lived in Saskatchewan for most of his adult life. His first experience with archaeology happened when he was about 12, on Beausoleil Island, the one-time home of his Anishinaabek ancestors. He is now a well-practiced flintknapper, and he is always eager to share his passion and interest in the ancient crafting tradition.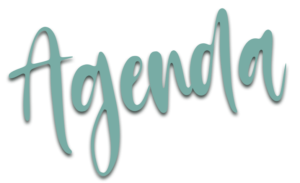 9:00 am – 10:00am      Registration Open
10:00 am     Welcome and Blessing 
10:30 am     Speaker
11:30 am      Member Forum
12:00 pm – 1:00 pm     Lunch
1:00 pm      Annual General Meeting
2:00 pm     Speaker
3:00 pm     Self guided tours, Social Time