MAS works with its membership and partner organizations in creating sustainable futures for museums. We continue to embrace change through the ways we work and connect. We recognize that each person brings a completely unique perspective and set of experiences, and that together we can build a valuable perspective to better serve Saskatchewan's museums.
MAS is committed to supporting inclusion, diversity, equity, and accessibility (IDEA) within the museum and cultural sector, and in our own organizational practices. MAS continues to prioritize efforts to educate and confront the museum's role in colonialism and perpetuation of harmful rhetoric affecting many peoples. We acknowledge the ongoing commitment that this work entails, and we have focused on providing resources and framework for members to commit to this work and celebrate successes.
MAS encourages all institutions, trustees, staff, and volunteers who make up Saskatchewan's diverse museum sector to commit to year-round advocacy efforts. These efforts help promote ways your organization serves, improves, and affects your visitors, neighbourhood, and wider communities. For any advocacy-related questions, please reach out to MAS Executive Director Emma Morris at [email protected].
Led by the Alberta Museums Association (AMA), and in partnership with the Canadian Museums Association (CMA), MAS, and a consortium of provincial and territorial museums associations, Reconsidering Museums sets out to better understand what museums mean to Canadians and to support our sector with the tools and language necessary to advocate for the value of museums.
Since 2020, the AMA has engaged with Canadians to understand the perceptions the public holds of our sector. Read the findings of their engagement campaign, Museums for Me, and research in two reports, What We Heard and Trust and Value: The Role of Museums in Canada in the Twenty-First-Century.
The resources developed through this project will provide adaptable values-based messaging that bridges the gap between museums and their publics, substantiates the value of museums with data-driven insights, and helps shape public dialogue around the vital role of museums in our society.
Find the website and toolkit at reconsideringmuseums.ca.

Activating UNDRIP in Canadian Museums (Canadian Museums Association, 2022)
The document calls for support for Indigenous-led organizations, initiatives, and self determination at every level of museum operations and within all museum positions across the country. It is aimed at advancing the Truth and Reconciliation Commission of Canada "Call to Action #67" that asks the federal government to provide funding to the Canadian Museums Association (CMA) to review, in partnership with Indigenous peoples, Canadian museum policies and practices and make recommendations for the sector to become more compliant with the United Nations Declaration on the Rights of Indigenous Peoples (UNDRIP).
Download the Report:
Moved to Action: Activation UNDRIP in Canadian Museums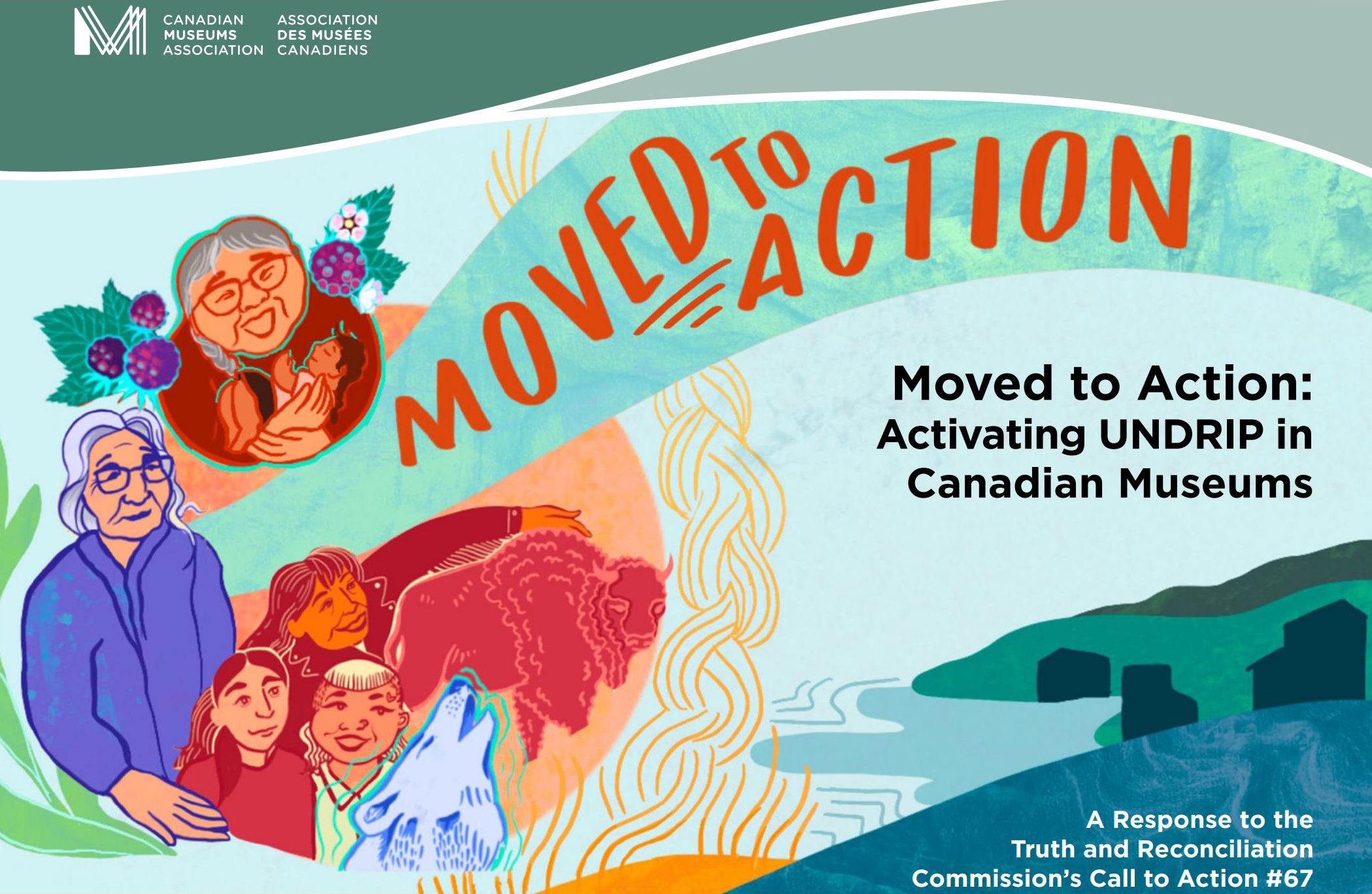 Canadian Heritage
Preliminary Results of Museum Policy Stakeholder Survey (December 2022) 
A short survey asked stakeholders to provide their views on current and emerging priorities of the museum and heritage sector. Stakeholders for this survey include museums, art museums, archives, historic sites, Indigenous cultural centres, science centres, botanical gardens, zoos, and academic institutions offering museological or archival programs etc. The purpose of this survey is to validate the needs and gaps of Canada's heritage sector.