On Saturday June 10th 2023, MAS presented the 2023 MAS awards, with categories that included the Award of Merit for Institutions, Individual Award of Merit, and an Honorary Lifetime Achievement Award. This year we also presented a special Certificate of Excellence, for the outstanding contribution to the museum sector and contemporary best practices.
Thank all of those in the Saskatchewan Museum Community for your hard work and dedication. Thank you to the nominators for bringing these efforts to light to be recognized by MAS and their peers across Saskatchewan. It is an honour each year to review the applications highlighting the great work that is being done.
Award of Merit - Institution (over $50,000.00)
Western Development Museum and Whitecap Dakota First Nation
Since 2018, the Western Development Museum and Whitecap Dakota First Nation have been renewing their historic relationship that began over 70 years ago. This renewal has resulted in a new co-curated permanent exhibit.
WDFN Elders and Knowledge Keepers remember Pion-Era as an important part of the community's summer, where families gathered to live aspects of their culture together alongside their non-Indigenous neighbours in Saskatoon. Today, they honour their relatives' contributions to Pion-Era through this important exhibit with partners at the WDM, while acknowledging the barriers they faced in doing so.
The WDM and WDFN partnership is an exceptional example of working together in the spirit of Truth and Reconciliation by centering Indigenous histories in the provincial museum. Together they have developed an innovative model of best practices for Indigenous and non-Indigenous heritage relations, archival justice and cocuration that is an inspiration.
We would like to acknowledge the Elders, Knowledge Keepers and Chief and Council from Whitecap Dakota First Nation who have informed the project and exhibit at every stage, including this award.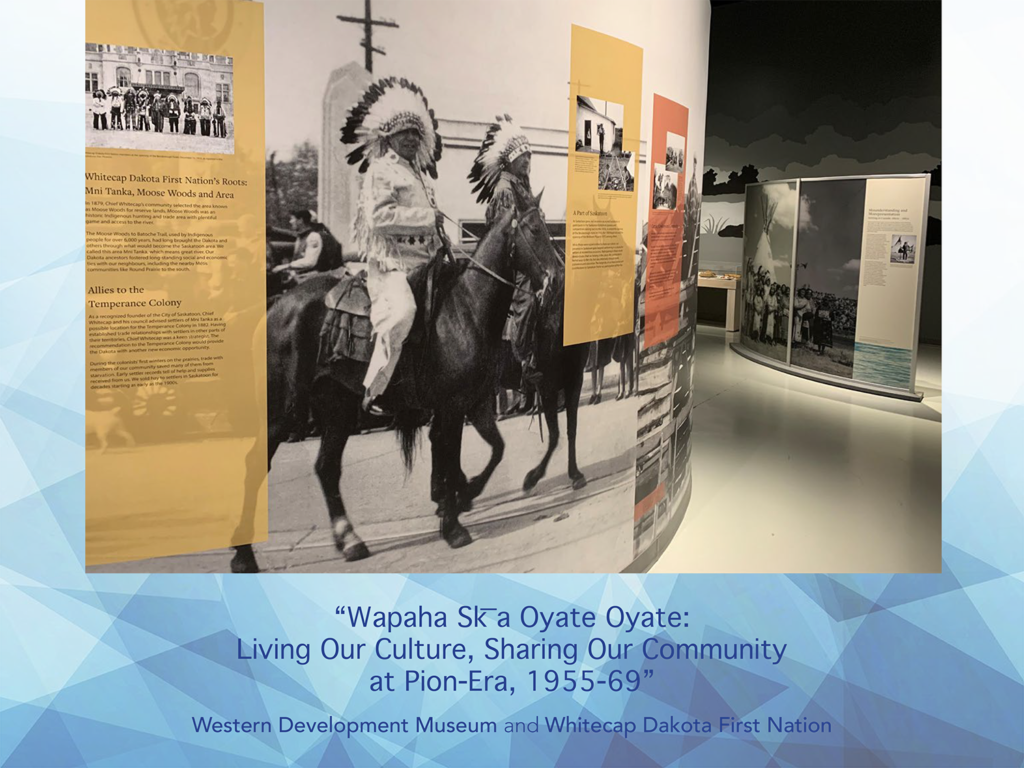 Award of Merit – Individual
Victoria is the sole Conservator at the Royal Saskatchewan Museum, and her personal practice is a passionate contribution to the care of Indigenous belongings housed at the RSM in a way that is collaborative and prioritizes Indigenous access, control, and voices.
Victoria's leadership and innovative work related to the rehousing of the RSM's Indigenous Studies Collection. This began in 2019 and recently culminated in an extensive and practical publication in the Journal of the Canadian Association for Conservation.
There were many issues related to the existing storage of the collection, including layout and furniture, storage methods, and collection management and documentation that made it difficult for Indigenous communities and museum staff to access the collection. Because the Indigenous Studies Collection also includes the Sacred, Ceremonial, and Culturally Sensitive Collection it was imperative that improvements be made to facilitate access.
While Victoria acknowledges that there is still a lot of work and improvements that could be made, it is now possible to welcome community visits to view the belongings, providing research tours of the storage area to local Indigenous scholars and museum professionals, and to facilitate important community loans.
Victoria is increasingly connecting and building relationships by prioritizing use of the space at the RSM by Indigenous communities in a way that respects them and their cultural belongings.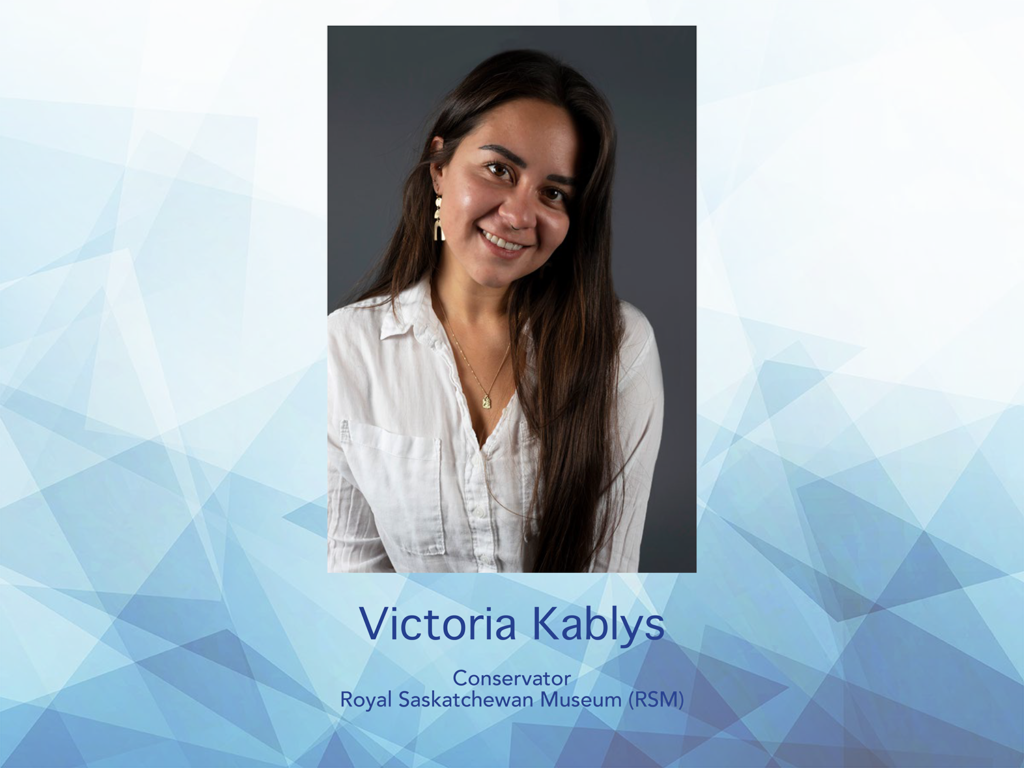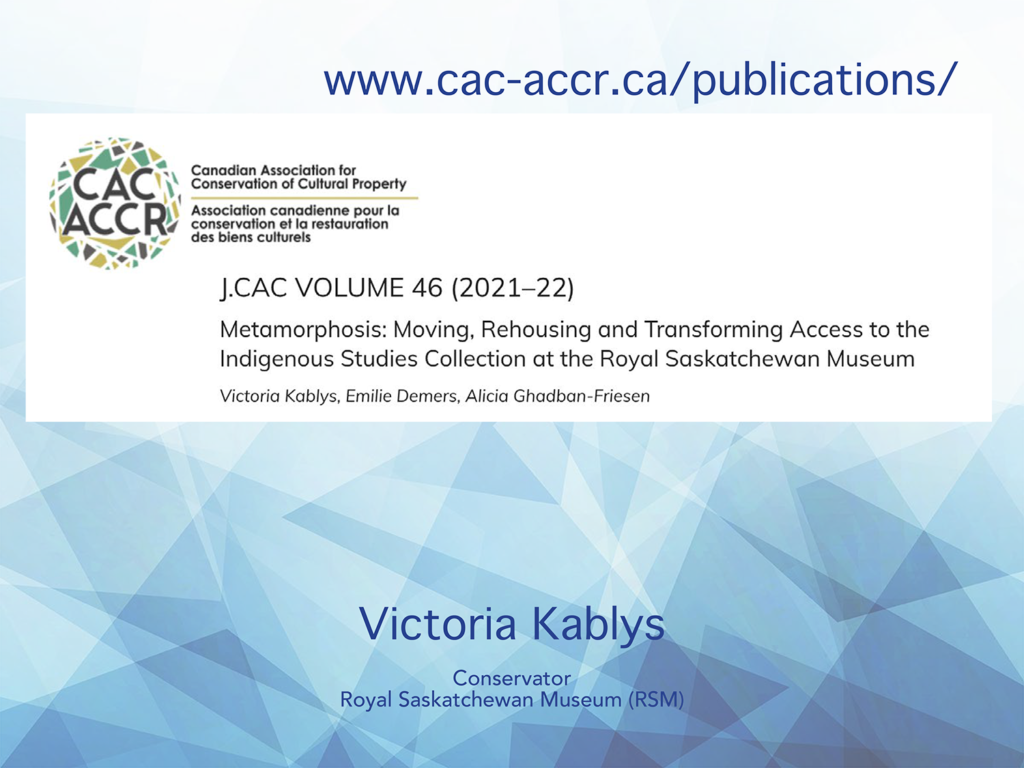 Certificate of Excellence
Saskatchewan Archaeological Society
"Points of View: A Guide on Saskatchewan Projectile Points with Indigenous Perspectives" makes a valuable contribution to both the interpretation of Saskatchewan's extensive history, and to the area of community engagement and the inclusion of Indigenous voices into public interpretation and understanding of their history.
For sixty years the SAS has been a leader in the preservation of archaeological heritage in the province and in the promotion of educational programs that enhance awareness of the extensive human history to be found in Saskatchewan. With the adoption of the recommendations of the Truth and Reconciliation Commission of Canada, the SAS has been striving to ensure that Indigenous voices, traditions, and perspectives are heard in all aspects of archaeological research and interpretation, from academic research, to public programming and museum exhibitions.
Honorary Lifetime Achievement Award
Wendy Fitch started working for MAS in 1986 as the Museums Advisor. She worked tirelessly to care for and promote museums and their diverse collections, and to befriend the folks who work there for over 26 years. 
In 2012, Wendy took on the role of Executive Director of MAS. Wendy's natural leadership and kind demeanor guided her success in that role. 
Through all her years at MAS, her commitment to museums in Saskatchewan never failed. Wendy is a genuine fan of all things museum, and of all things Saskatchewan. Wendy advocated hard for Saskatchewan museums at all levels of government, always ensuring the smaller institutions were represented as much as the larger institutions. 
Wendy was proud to have spent time in nearly all of the museums in our province, whether for a visit and tea, or to get down to business and help solve a problem. She was also always available over the phone to have a chat or to offer advice. 
MAS would not be what it is today without Wendy Fitch, and nor would the over 250 museums in Saskatchewan. 
We are grateful for her dedication and passion over the course of her career, and are so thankful that she continues to be involved in the museum community in a variety of ways beyond her retirement. 
Thank you for a lifetime of service Wendy. It has certainly been an achievement worth celebrating.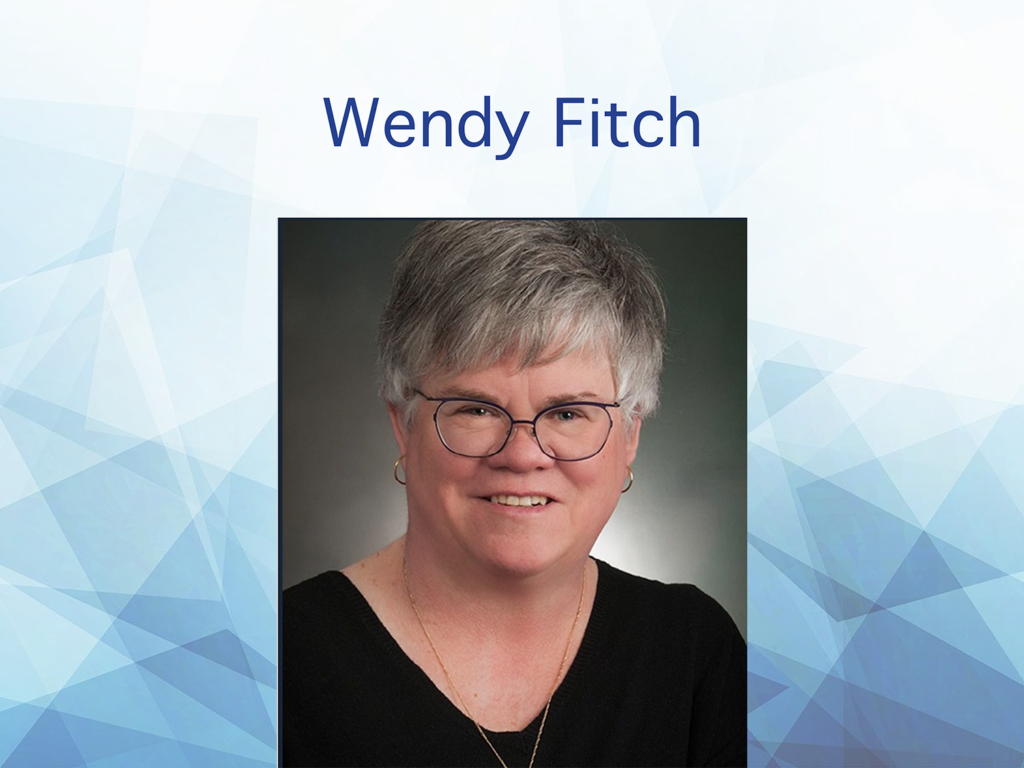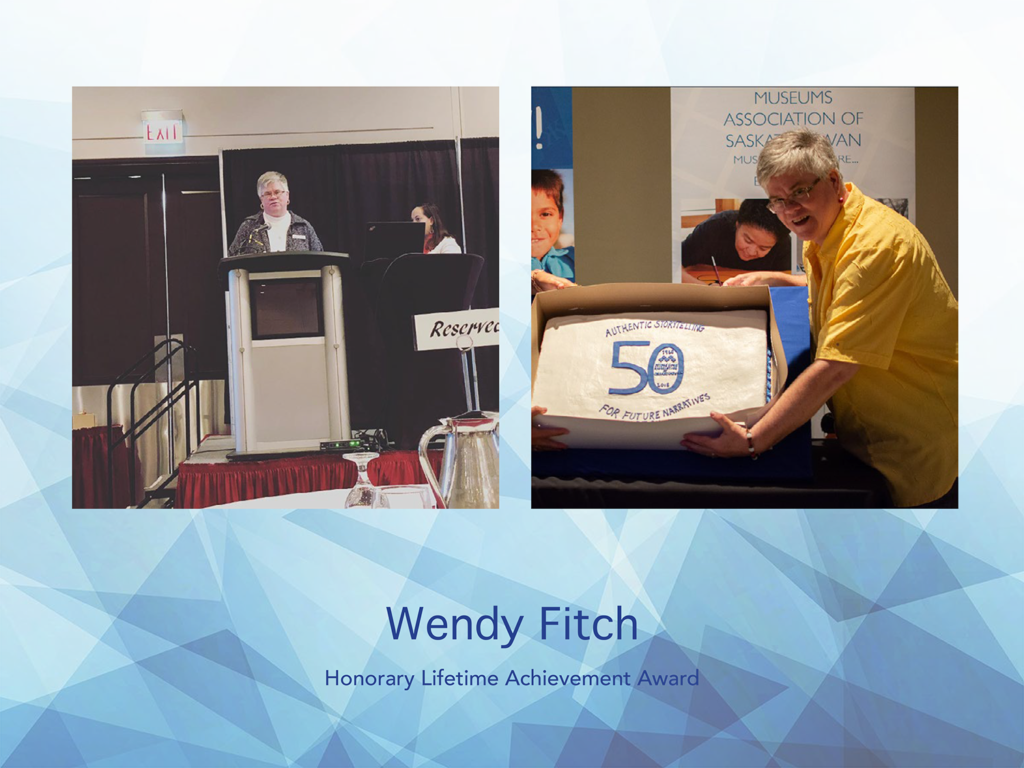 The Museums Association of Saskatchewan's 2023 Awards are currently closed.
There are two awards categories, the Young Professional Award and the Award of Merit. The Award of Merit has two streams, one for institutions and one for individuals. There are two sub-streams in the Award of Merit, Institutional category, for projects with budgets over $50,000.00, and for projects with budgets less than $50,000.00.
Please email Amber Hanover at [email protected] with any questions you may have.
Young Professional of the Year Award
The Young Professional of the Year Award recognizes the efforts of an outstanding individual who has made great strides and contributions to the broad museum community including: art galleries, ecomuseums and/or heritage communities. They will have demonstrated passion and integrity. They must have endeavoured to develop and share their experience, knowledge, and skills, by participating in training, such as those offered by MAS.
Be a member of MAS or working for/volunteering with a member institute of MAS;
Be currently attending school or have graduated from relevant education within ten years of the annual meeting and/or be less than 35 years of age, working towards a career in museums, art galleries,and/or heritage
Have demonstrated a commitment to the advancement, growth, and development of the museum sector including: art galleries, ecomuseums and/or heritage communities
Have not received the award previously
The Award of Merit is conferred on an institution or individual who has raised
awareness, promoted, and advanced the museum sector in Saskatchewan through recent significant and sustained contributions to their communities in the form of museum projects completed within the past two years.
The successful institution will be recognised for outstanding success in areas such
as community engagement, programs involving inclusivity and Indigenization, and
originality in exhibitions. The institution will be located in Saskatchewan, and have
played a significant role in the collection, preservation and/or presentation of
Saskatchewan's tangible and intangible cultural heritage. This may involve: special
projects; establishing community partnerships and attracting new audiences;
supporting schools and organisations through original programming; and
developing and presenting innovative exhibitions. There are two streams of awards
in this category – one for institutions with operating budgets/projects over
$50,000.00 and one for institutions with budgets/projects under $50,000.00.
An institution may nominate itself, or be nominated by persons or groups
associated with it. It can also be put forward by another institution(s) or individual.
The nominator is not required to be in Saskatchewan.
The chosen individual will be honoured for their creative and innovative work in areas within museum operations. This includes volunteers, staff or professionals living in Saskatchewan who have undertaken specific projects in areas such as: collections management; research; creation of programs and exhibitions; and marketing and administration.
Activities may include: implementing curatorial best practices; leading community-based research; launching non-traditional programs
and exhibitions (such as web-based exhibitions, or travelling programs); and museum publications.